2023-24 Trainer Info: EXT
Get Started
This course is currently closed
Dear Externship Trainers,
Whether or not you've done an Externship with Courses already, there is some key information you need. So here it is!
What Courses is responsible for
The gSheet. I'll reference this many, many times. This Google-based multi-tab spreadsheet is shared between myself, the trainers, and Matthew ("the Zoom guy"), and there is one unique gSheet for every event. It has all our Behind The Scenes stuff, as well as all the attendees/attendance information. Anything about this event that the team needs to know, will be on a tab in that sheet.

You may see me call it "our shared gSheet" or our "Team Hub"

Zoom + tech support. If you don't know Matthew Settle already, I can do introductions. He handles event-day from 1 hour pre-event (ie, panicked attendees can email or phone him), tracks attendance, works closely with me, and does a bunch of event-day tech magic for you.
Event listing, plus. I list each event on Courses & ICEEFT, then handle event enquiries, registration/sales, waitlist, scholarships, etc. If anyone contacts you, you can point them to the Courses site and/or courses@iceeft.com
The Portal. Anything an attendee might ask about should be here. The portal houses all attendee information (left column) and date-released information (right column) including: trainer-provided content (once I have it from you), the core event materials, zoom link alongside time zones, completion badges, and completion certificate.

Event materials have limited access: 2 weeks pre event to 2 weeks post event.
NB: the Portal is where the Zoom link is shared.
I'm also responsible for ensuring that trainers, Matt, helpers, and attendees all have appropriate access to the attendee portal.

CEs. I have our CE providers in place, and a system for how we track attendance; I submit that data to the providers. Q&A about CEs (including event duration, breaks, and learning objectives) can be found on this page in the green (right hand) column.
Contacting attendees. I send event reminders 2 weeks pre-event and again 3 days prior. After the event, I check that each attendee has submitted their Exit Survey, follow up as required, and share the First Year Free membership information, too.
Connecting EFT Org's with attendees. Post-event, Lily & I will tackle the attendee list, filter out anyone who did not consent to their details being shared & anyone who did not complete the EXT, then match every person to their geographically closest EFT Org. We then contacts each EFT Org providing the name/email/location of the recent EXT grads specific to that Centre/Community.
Reporting. Whether that's keeping you abreast of ticket sales pre-event, or providing financial reports to the Board, or compiling the Exit Surveys (which are shared with trainers post-event), or… Courses does all that.
What trainers are responsible for
The Live Couple. Find & communicate with them, input when they'll be taking part into the gSheet, share the Zoom link with them, and provide me with their signed consent form (at least 3 days in advance).
Trainer-provided materials. Slides, handouts, videos — whatever you want attendees to have a copy of. Please provide these to me 3 weeks pre-event, if you can. PDFs are preferred. Once I have these, I upload and add it to the portal for attendees to access.
Course content. Work with your co-trainer, plan the course, prepare and present what you want to show & do at the live-online training. Matthew may be able to help make your dreams come true 😉
The tech you need to take part: good quality internet, microphone, camera, and computer with Zoom.
Communication. Provide up-to-date headshot & bio (for the Courses site) and resume/CV (for the CE folks). Complete scheduling surveys. And generally respond somewhat promptly to emails.
Attendee reminders. In the future, I might make a checklist of things to mention at the start/end of an event. Eg: to complete the Exit Survey right away. This does not yet exist (4/May/2023).
What trainers & Courses have intertwined responsibilities for
Marketing. I tend to market our events in general; trainers tend to market the specific events they are involved in. The trainers marketing guide has a bunch of information re potential social media posts, etc.
Helpers. There are quite specific pieces here:

I will provide you with an (optional! customizable!) Helper Application Form, and the gSheet it feeds into. See examples (green/right column).
You are responsible to advertise for helpers (you may list on TopicBox), go through the applications, select who you want to work with, and inform applicants re yesses & nos.
You also let me know who you have decided upon (there's a spot in our gSheet for this), preferably 2+ weeks pre-event for the majority of the helpers. Then do your best to keep the Helper section up to date; this is where Matt & I look for the knowledge we need.
I set up access to the portal for approved-helpers & send them an email re that access + about invoicing (approx 2 weeks pre-event). I also handle invoice reminders & approvals (post-event).
If any helper who has portal access needs to withdraw, let me know so I can remove their access.
Trainer Pre-Event Checklist – with due dates
Trainer-provided materials. Slides, handouts, videos — whatever you want attendees to have a copy of. Please provide these to me

3 weeks

pre-event, if you can. PDFs are preferred.
Helpers. Let me know who you have decided upon (there's a spot in our gSheet for this), preferably

2 weeks

pre-event for the majority of the helpers. Then do your best to keep the Helper section up to date thereafter. If any helper who has portal access needs to withdraw, let me know so I can remove their access.
The Live Couple. Provide me with their signed consent form at least

3 days

in advance.
The Fine Print
100% a tongue-in-check title; I do try to bring a smile to all our hard work!
Trainers as Independent Contractors
Trainers, as independent contractors, are paid a daily rate regardless of how many hours that training is, how many people are signed up, etc. All financial risk is taken on by ICEEFT Courses. Event cancellations due to low enrollments are determined at least 4 weeks prior to the event start date.
Trainers are required to submit one Invoice Form after the event; we prefer to pay via PayPal.
Although we cannot provide tax advice, Canadians who will be earning over $30,000 per annum are recommended to look into registering for HST (Ontario) or equivalent.
Trainers Daily Rate
Each trainer is paid US$2,500 per day. A lower rate may be negotiated on a case-by-case basis (eg, for a Fundamentals course with a low number of attendees). As the Courses program is so new, the daily rate is subject to revision as the program progresses.
EXT Event Capacity
The standard capacity for an Externship is 70 attendees.
This capacity may rise if there are scholarship attendees, up to a maximum of 77 attendees where there are 7+ scholarships booked.
Some events have had a higher capacity due to technological malfunction, ie, the system did not automatically turn off sales at 70 or 77 when it should have. Last minute exchange requests & no-shows do happen, so the number of booked attendees may fall as late as the first day of an event.
Recording of Live-Online Events
The event cannot be recorded (including by/for trainers).
The exception to this is if there are Live Client(s) AND they consent AND the trainer wishes to record for trainers own use AND (if relevant) the course attendees also consent. Please provide Courses with at least 7 days notice if you expect this situation will apply to you!
Limit to Helper Numbers
As a maximum, there is a 4:1 ratio, 4 attendees for every 1 helper. Please note that the ratio is per day (or even half day). For example, an event may have a huge number of helpers overall, because each helper is only available 1 of the 4 days.
You do not need to aim for 4:1 helpers — fewer helpers is okay; zero helpers is okay, too. For example, zero helpers on Days 1 & 4 and the maximum quantity on Days 2 & 3.
Helper Honorarium
The helper honorarium for ICEEFT Courses is US$100 per day or $50 per half day. We prefer to pay via PayPal. Helpers are required to submit one Invoice Form after the event.
Co-trainers & Scheduling
All information about co-trainers & scheduling can be found within 2024 Courses Scheduling. If your question isn't answered there, please ask!
Board Decisions
Sent to trainers 11/Jan/2023:

The board met yesterday. Based off the Board's leanings, this is how I will be proceeding for events Feb-June, 2023:
EXTERNSHIPS
No changes at this time. 4:1 ratio of paid helpers continues.
EFFT, EFiT, and ATIP
No volunteers nor paid helpers for these events.
Any break-out rooms are for structured exercises where the participants go away, do an exercise together, then come back and report. No facilitation. No roleplay.
Please note that the Board views this period as early days in a new program and that the Board is gathering data before making firm decisions.
Feedback & Collaboration
The Courses program (technically born 1/Jan/2023) is still very much in its infancy: learning, growing, and adjusting. I would like to thank all of you who have joined me on this journey to date, and I look forward to working with many new faces as we continue.
To get in touch with me: vanessa@iceeft.com
To connect an attendee or helper in touch with Courses: courses@iceeft.com
Very best regards,
Vanessa
Online Events Coordinator / Project Manager
Show & Tell
Info for any Courses' event…
Info specific to Courses' EXTs…
the CE criteria (learning objectives)
the Exit Survey
example gSheet
Fast Facts
Capacity:
Jan-June 2023: 70*
Sept-Dec 2023: 80*
*see The Fine Print, below-left
Hours: 32, as 4x 8-hour days
CEs: 28
Breaks:
EXTs are CE approved to have 1 hour worth of breaks per day, specifically 30min lunch + 2x 15min breaks.
My understanding is, so long as you stay within 1 hour of breaks per day, you may tweak the length of each. For example: 40min lunch + 2x 10min breaks.
EFT Ratios:
EFT for Couples: 70-80%
EFT for Individuals: 15-25%
EFT for Families: 1-10%
Pre-requisites:
There are no prerequisites needed to attend an Externship. For participants new to EFT, we recommend "Fundamentals of EFT" precede this course.
Readings:
The following publications are recommended for Externships
1. "Attachment Theory in Practice: Emotionally Focused Therapy (EFT) with Individuals, Couples, and Families" by Dr. Susan M. Johnson, 2019.
2. "Becoming an Emotionally Focused Therapist: The Workbook (2nd Edition)" by James L. Furrow, Susan M. Johnson, Brent Bradley, Lorrie L. Brubacher, T. Leanne Campbell, Veronica Kallos-Lilly, Gail Palmer, Kathryn Rheem, Scott R. Woolley, 2022.
Inclusions:
1. Every attendee may access the latest issue of the ICEEFT Newsletter via the portal.
2. A few days after the event attends, attendees are offered a complimentary first year of ICEEFT Membership.
Past & Future Courses' EXT
2023 Externships: Sept-Dec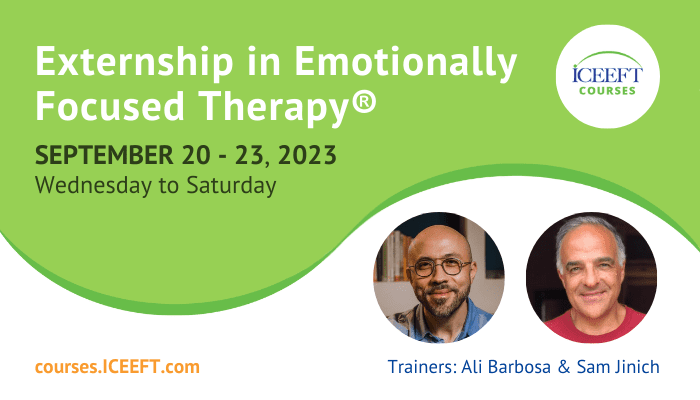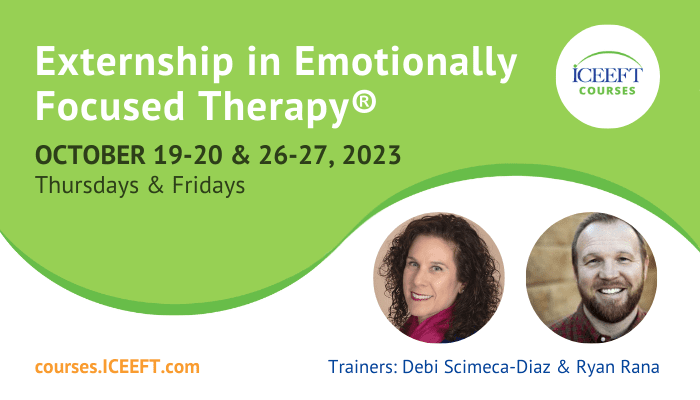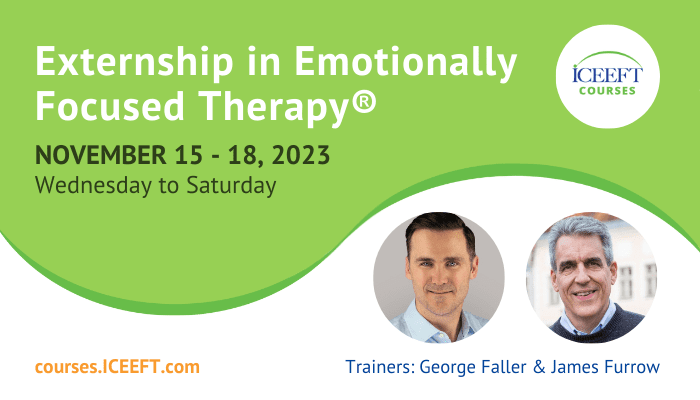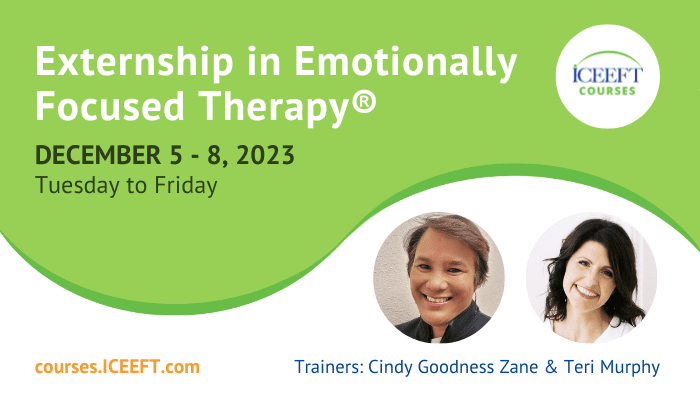 2023 Externships: Jan-June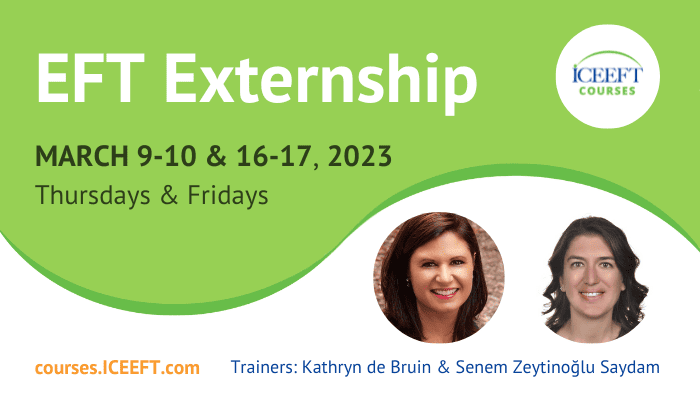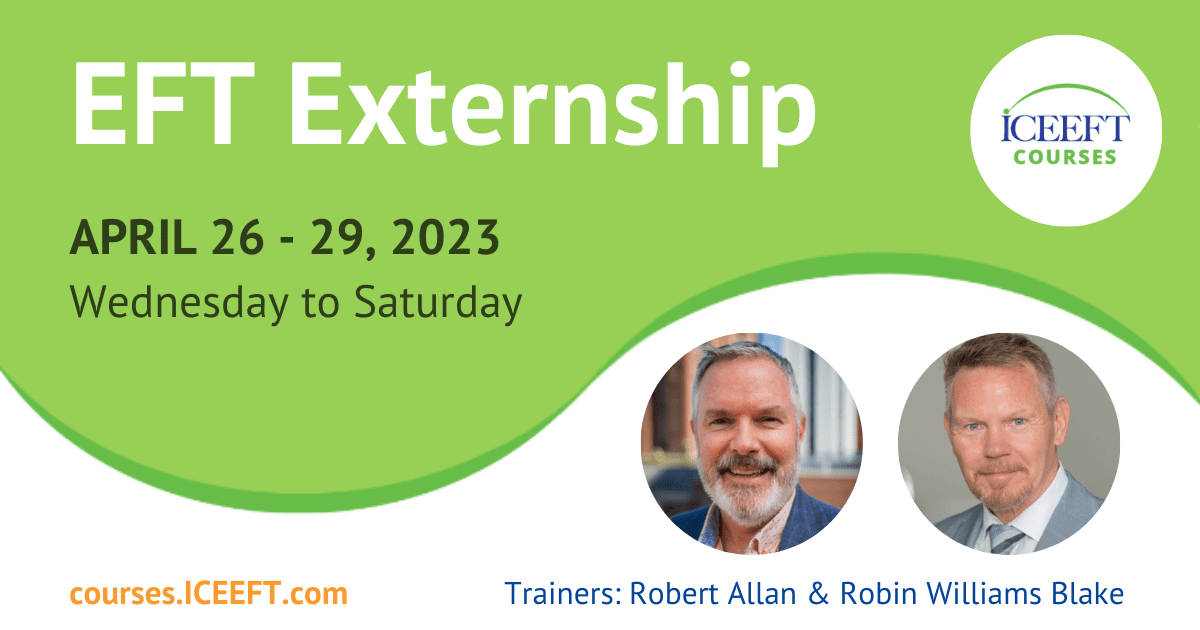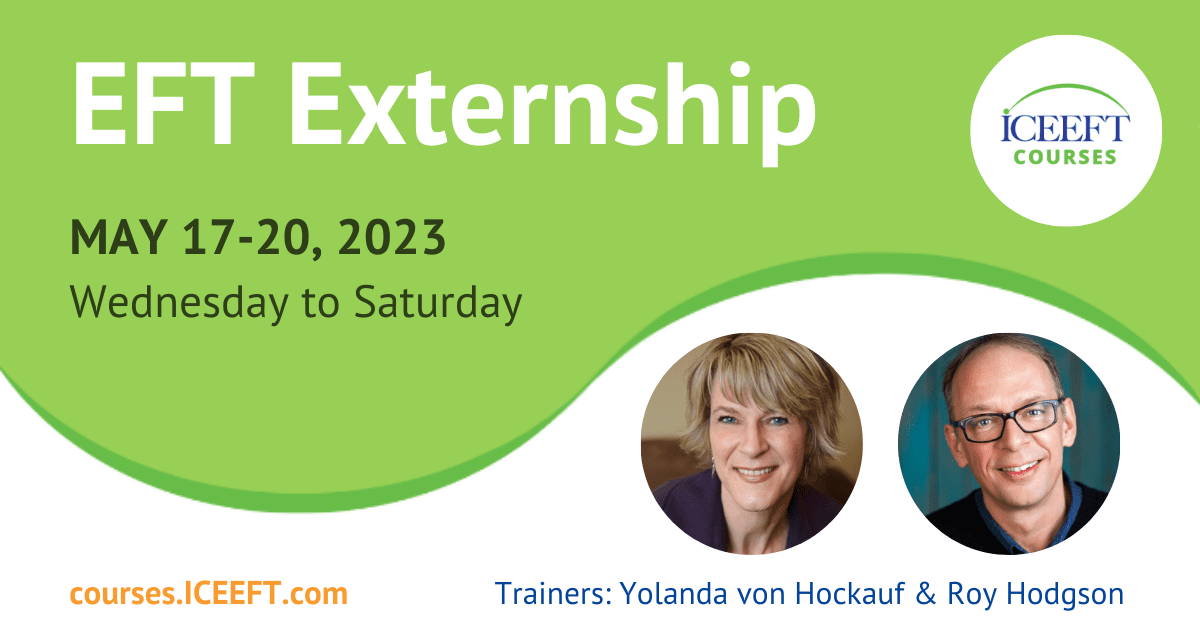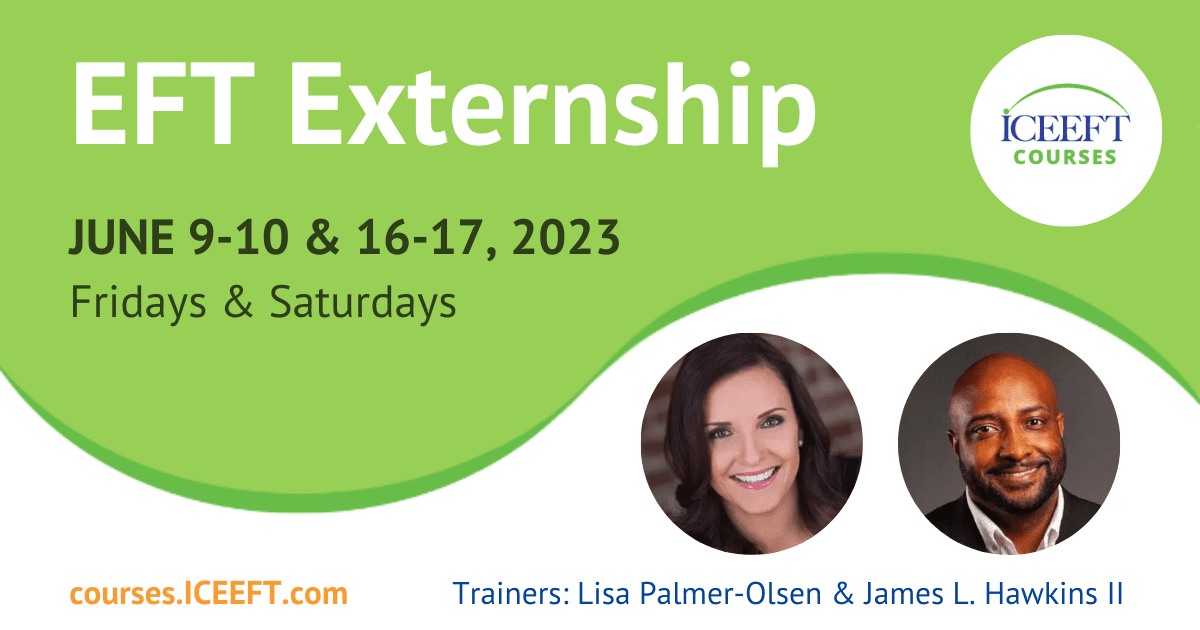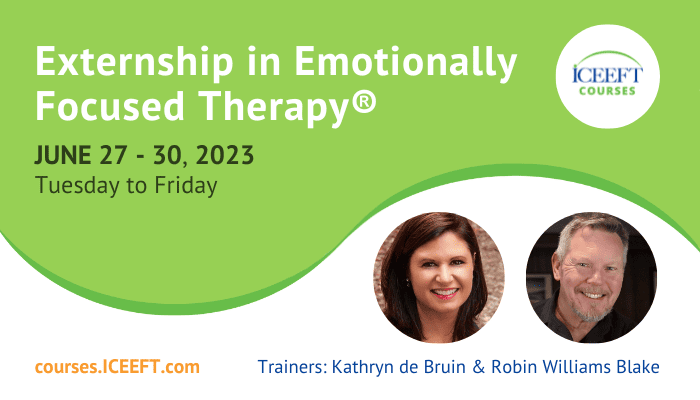 2022 Externships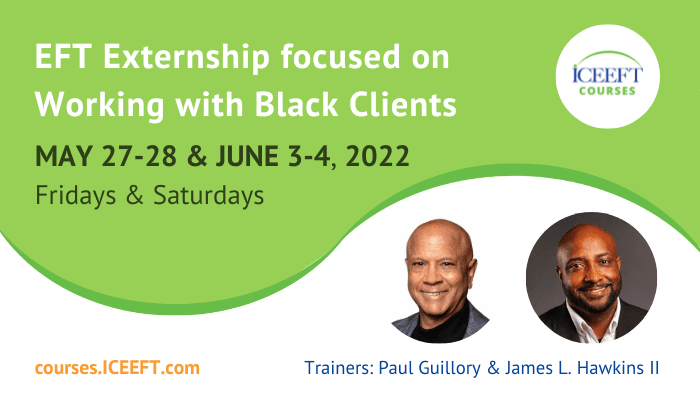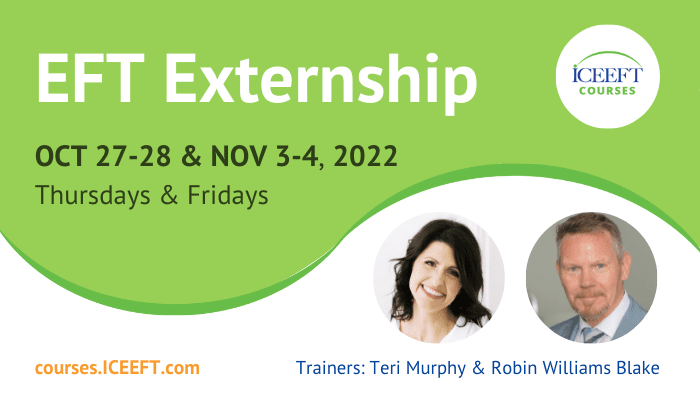 If you'd like to stay connected please