We welcome therapists in all their diversity
ICEEFT Stance on Diversity
We aim to cultivate a climate of inclusion, an environment where all can feel safe, valued, cared for, and given an opportunity to form meaningful connections with each other. In all facets of our work we strive to embody what we hope to see in the world — a just, loving humanity and community in which people are free to be themselves fully — where people can embrace their most basic universal human attachment needs without fear of persecution or marginalization as a result of religion, race, ethnic or national origin, sexual orientation, gender expression, age, class, mental health, physical character or disability. These values are inherent in the attachment science and humanistic approach to intervention that all our work is based on.
Specifically, humanistic approaches such as EFT are collaborative and respectful. We create a safe place for people and treat them as persons, not problems or types. Our approach is non-pathologizing in practice.
Our values are inclusive and egalitarian while viewing human connection as sacred — something to be honoured and cultivated.
Our scientific and theoretical base outlines key universals, emotion and attachment, while respecting individual differences.
ICEEFT Position Statement on Diversity and Racism
At the International Center for Excellence in Emotionally Focused Therapy (EFT) we are dedicated to developing secure, resilient individuals and successful trusting relationships between partners and within families across the globe. As such, we stand against all forms of racism and discrimination and stand in support of the Black community. With new eyes, we condemn the abhorrent impact of systemic racism in our world, our societies, and in our own organization.
We are committed to listening, learning and growing, so that we can better embody our values of inclusion, equality and diversity. We can and will do better. As a community, we commit to becoming an anti-racist organization, working in close collaboration with our Diversity Committee, as well as with members in our community who have experienced marginalization. Together we will fight racism, both as a principle and as a tangible reality in our training programs, our clinical work and our interactions with communities across different countries and cultures.
Our renewed aim is to share our expertise and knowledge in the service of healing racial trauma, helping people value differences while affirming our common humanity. We will take a more focused and deliberate action to welcome and promote greater openness and compassion in all our endeavors.
With inclusion, equity, and diversity as foundational values, our work will continue to remain grounded in attachment science which asserts that we are all wired for connection and share common needs to be seen, valued and supported by others.
With so much to learn we will remain curious and committed to our aspirations to become an equitable organization where everyone can thrive—until we get it right. Working together we will get there.
The ICEEFT Diversity Scholarship
We recognize that some therapists may find the cost of our courses prohibitive. We also recognize that some therapists work in settings where they are paid less for their services. We seek to offer several widenings of participation to EFT via reduced-fee spaces.
The intent of this scholarship is to support individuals from diverse backgrounds who are interested in attending a course listed on this website. Our aim is to reduce financial barriers for therapists who serve marginalized populations. Through this scholarship, we seek to provide equal opportunity and support, and to help address disparities in the wider EFT and mental health communities.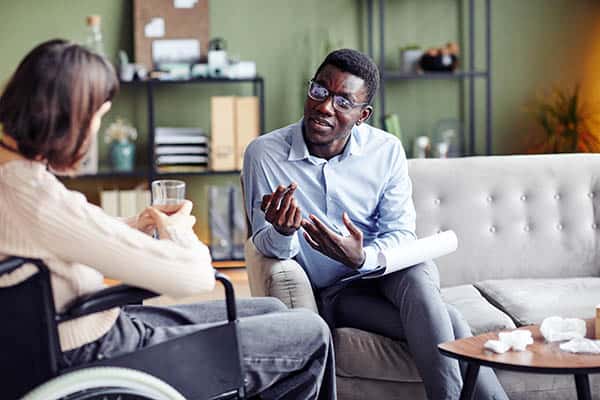 Eligibility
Diversity Scholarships are intended for therapists who:
have financial needs such that they cannot pursue training without a scholarship
AND identify as belonging to a marginalized group OR-AND work primarily serving marginalized groups.
Because there are limited funds available for scholarships, we ask candidates to please reflect on whether they truly need a scholarship to proceed. We want to ensure that funds are available for those who need them most.
Award Amount
The ICEEFT Diversity Scholarship provides a 50% discount off one Full Price* ticket for any of the following live-online* courses on this site: Externship, Fundamentals, EFIT (Level 1 or 2), EFFT (Level 1 or 2).
In cases of exceptional need, there may be other scholarship amounts available; we ask that you include these details in your application.
*Please note that scholarships cannot be applied to student tickets nor to prerecorded/special events.
How to apply
To apply for the ICEEFT Diversity Scholarship, please complete the application form via the button, below. In order for us to properly assess your application, all required questions must be answered.
How applications are processed
We accept applications which are eligible and complete on a first come basis. There are a limited number of scholarships available per event; if your preferred event is full, we may suggest a subsequent event. Scholarships may be offered on a conditional basis, such as a requiring you to register for a specific event within 30 days.
We endeavour to respond to applications via email within three weeks. Sometimes the volume of applications makes this difficult. If you have not heard from us in 30 days, please contact us.

If you'd like to stay connected please