We welcome therapists in all their diversity
You Are Welcome Here
Whether you are in a body that is indigenous, black, brown, latinx, asian, or white. You are welcome here.
Whether you are in a body that is gender non-binary, two-spirited, female, or male. You are welcome here.
Whether you are in a body that is asexual, pansexual, trans, queer, bi, lesbian, gay, or heterosexual. You are welcome here.
Whether you are in a body that has seen few or many years. You are welcome here.
Whatever limits your body has. You are welcome here.
Whatever context you have come from. You are welcome here.
We choose to create a safe learning space. We invite you to bring your whole self, all of your humanity, without any fear of being discriminated against. We welcome you.
The ICEEFT Diversity Scholarship
We recognize that the cost of EFT training is prohibitive for some therapists for a wide variety of reasons. Through our diversity scholarship program, we seek to reduce financial barriers, provide equal opportunity, and help address disparities in EFT and mental health communities. We are supporting and including therapists from diverse backgrounds by offering fee-reduced spaces for every live-online event listed on this site.
Note: ICEEFT Courses is limited to providing select courses in EFT, live-online, in English, for North American mental health professionals and students. Accordingly, if you are seeking a scholarship for EFT training beyond our scope, please contact the provider of the course you're interested in to enquire what widening opportunities they offer. You may find all EFT trainings (including organizer contact information) on ICEEFT.com.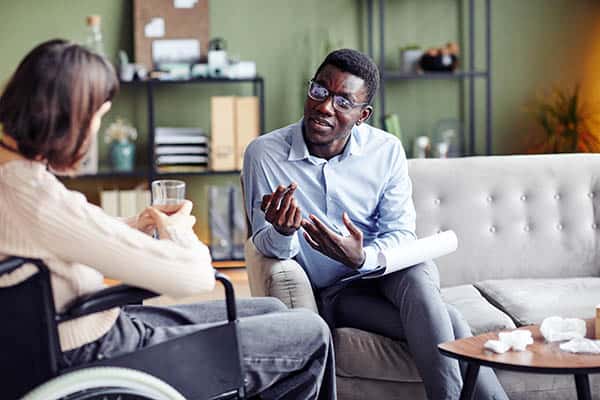 Eligibility & Award Amount
Diversity Scholarships are intended for therapists who:
have financial needs such that they cannot pursue training without a scholarship
AND identify as belonging to a marginalized group OR-AND work primarily serving marginalized groups.
The ICEEFT Diversity Scholarship provides a 50% discount off one Full Price* ticket for any of the following live-online* courses on this site: Externship, Fundamentals, EFIT (Level 1 or 2), EFFT (Level 1 or 2).
*Scholarships cannot be applied to student tickets nor to prerecorded/special events. Greater and lesser discounts may be available upon request.
How to apply
To apply for a Diversity Scholarship, please complete the application form via the button (below). In order for us to properly assess your application, all required questions must be answered.
Because there are limited funds available for scholarships, we ask candidates to please reflect on whether they truly need a scholarship to proceed. We want to ensure that funds are available for those who need them most.
How applications are processed
We accept applications which are eligible and complete on a first come basis. There are a limited number of scholarships available per event; if your preferred event is full, we may suggest a subsequent event. Scholarships may be offered on a conditional basis, such as a requiring you to register for a specific event within 30 days.
We endeavour to respond to applications via email within three weeks. Sometimes the volume of applications makes this difficult. If you have not heard from us in 30 days, please contact us.

If you'd like to stay connected please