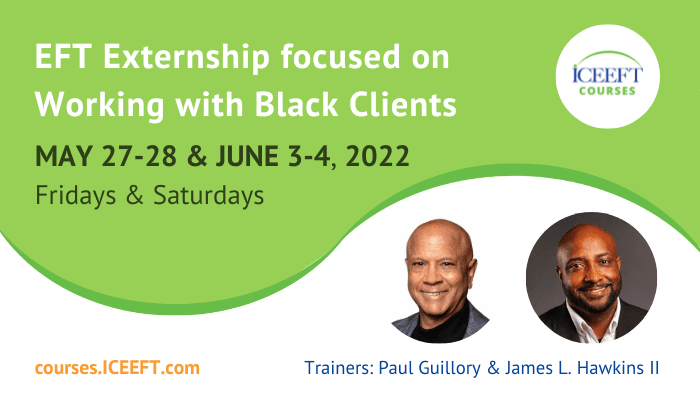 EFT Externship focused on Working with Black Clients
We welcome therapists in all their diversity
Want to empower your Black clients to feel secure, resilient, and successful as individuals, partners and within their families? Learn to conceptualize and skillfully integrate culture-matters and attachment science into your therapy. Gain new tools to improve the therapy you deliver and see change in every session.
This Externship, led by ICEEFT trainers Dr. Paul Guillory and Dr. James Hawkins, will introduce Emotionally Focused Therapy (EFT), a humanistic approach validated by over 30 years of empirical research. Over 4 days, this online course will present: skill building exercises, discussion of case materials, clinical examples of working with Black clients, clinical theory, EFT interventions, and moves of the EFT Tango. Continuing education (CE) credits are available.
Become the therapist you want to be! Register today: registration form is at the bottom of this page. Scholarships are available for those in need.
Our Teaching Stance
We respect diversity within Black people.
We recognize that racial identity is a complex and dynamic phenomena.
We recognize that every race-related factor will not be addressed in this training.
This is an introduction to both an evidence-based therapy model and integration of a model of race matters.
We recognize that relationships come in many different forms and value their variety, and we won't be able to cover them all in this course.
We recognize that discussions of race can be emotionally radioactive and triggering. We will take special care to make this a safe learning environment.
This Training Will Integrate
A model of race-matters
How to conceptualize and work with race-matters in therapy
Race-matters and attachment in EFT therapy.
Lots of clinical examples of working with Black clients.
One year membership in ICEEFT
You are eligible to attend if:
You are a member of a recognized counseling/professional mental health organization, or a student enrolled in a substantial counselling/mental health course of study.
You are interested in developing you understanding & clinical practice working with Black clients
You want to develop your understanding of Emotionally Focused Therapy