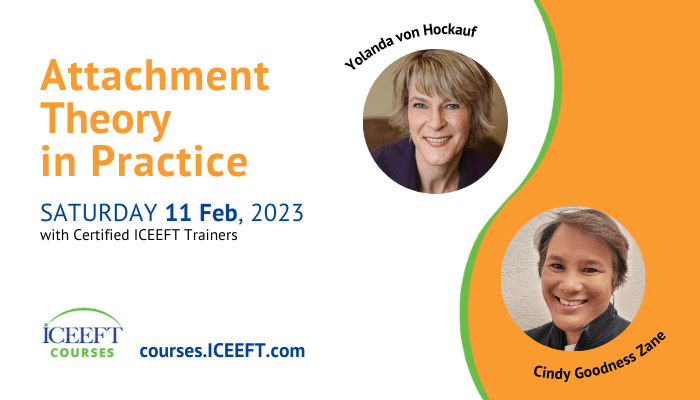 Attachment Theory in Practice – Feb, 2023
This one-day event will provide you with an outline of attachment theory as a guide to psychotherapy. You will also gain an introduction to Emotionally Focused Therapy and how the EFT Tango applies to all three modalities: individuals, couples, and families.
1 Day
Event
Day 1:
Saturday
February 11
2023
Event Time
by Time Zone
Pacific: 8:00am – 3:00pm
Mountain: 9:00am – 4:00pm
Central: 10:00am – 5:00pm
Eastern: 11:00am – 6:00pm
Become the therapist you want to be! Register today.
Scholarships are available for those in need.
Trainers
Cindy Goodness Zane

ICEEFT Certified Trainer

Born and raised in Pearl City, Hawaiʻi, Dr. Cindy Aiko Leimomi Goodness Zane is a local girl at heart, of multiethnic backgrounds and strongly identifies with her Hawaiian and Japanese ancestries. She started her professional life as a trial attorney and discovered along the way that she was drawn to peoples' stories, joys, challenges and relationships. As a licensed Clinical Psychologist in private practice, Dr. Zane enjoys working with couples, families and individuals of diverse backgrounds, identities and varied life experiences. She utilizes Emotionally Focused Therapy (EFT) to help clients to navigate through life's challenges by strengthening their relationships. After all, life is less scary and most meaningful when we have close others to share it with.

Now Certified by the International Centre for Excellence in Emotionally Focused Therapy (ICEEFT) as an EFT Trainer, Supervisor and Therapist, Dr. Zane is passionate about training more EFT clinicians throughout Hawaiʻi and around the world. She finds especially meaningful the support and the development of local EFT clinicians, those of diverse backgrounds and identities, as well as those who work with diverse and/or marginalized populations.

Yolanda von Hockauf

ICEEFT Certified Trainer

Yolanda (she, her) is a Registered Marriage and Family Therapist and Certified EFT Trainer. She is a co-founder of the Vancouver Couple & Family Institute and the Vancouver Centre for EFT Training which have provided services to clients and therapists since 2005.

As a therapist in the original UBC research study on Emotionally Focused Therapy by Sue Johnson in 1983, Yolanda has been using the model since its inception.

Applying the EFT model creatively to a range of cultures is a strong passion for Yolanda. She has trained in 14 countries around the world and continues to actively learn and grow in her understanding of how to apply and train in EFT.

Yolanda has a passion for helping therapists grow in their skills, confidence and self-awareness. She has mentored numerous trainers toward becoming ICEEFT Certified Trainers. Her clear style and engaging manner make her training an exceptional experience for beginning and advanced therapists alike.