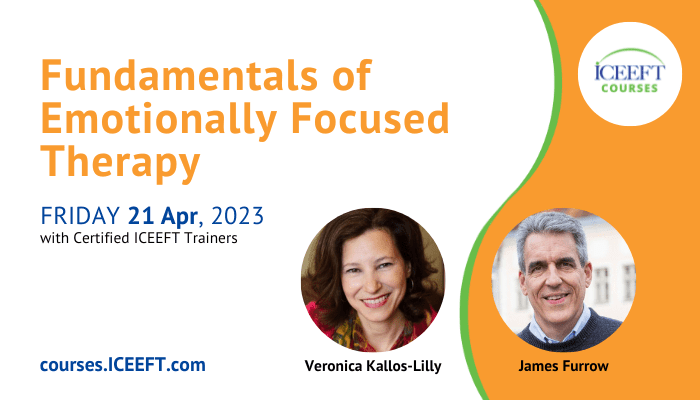 Fundamentals of Emotionally Focused Therapy – Apr, 2023
This event was previously "Attachment Theory in Practice"
Looking to elevate your skills and take your practice to the next level?
In just one day, Fundamentals of EFT will demonstrate how Emotionally Focused Therapy provides a map to lasting healing for individuals, couples, and families. Grounded in attachment science, this workshop will provide you with practical tools to guide your understanding and take your first step into the transformational world of EFT.
What is EFT? Learn the fundamentals in this one-day course.
1 Day
Event
Day 1:
Friday
April 21
2023
Event Time
by Time Zone
Pacific: 9:00am – 4:00pm
Mountain: 10:00am – 5:00pm
Central: 11:00am – 6:00pm
Eastern: noon – 7:00pm
Become the therapist you want to be! Register today.
Scholarships are available for those in need.
Trainers
James Furrow

ICEEFT Certified Trainer

James L Furrow, Ph.D., is a recognized leader and contributor to the practice of Emotionally Focused Therapy (EFT) with couples and families. He is contributing author and editor to five EFT texts including Emotionally Focus Family Therapy: Restoring Connection and Promoting Resilience and Becoming an Emotionally Focused Therapist: The Workbook. His research on couple therapy, positive youth development and spirituality are featured in leading professional journals. He is a clinical fellow and an approved supervisor with the American Association for Marriage and Family Therapy and a Certified Family Life Educator. Jim is an ICEEFT certified EFT therapist, supervisor, and trainer. He resides in Seattle Washington.

Veronica Kallos-Lilly

ICEEFT Certified Trainer

Veronica Kallos-Lilly is a certified EFT Trainer, clinical psychologist and co-founder of the Vancouver Couple & Family Institute and Vancouver Centre for EFT Training. Since 1995 she has enjoyed training therapists and traveling within Canada, the US and Australia to teach EFT with Couples and Individuals, EFT and Trauma, and Self of the Therapist workshops. Veronica also presents educational workshops based on EFT to public audiences, such as Hold Me Tight® for couples and Hold Me Tight® / Let Me Go for families with teens. Veronica is a published author and excited to announce the recent publication of the second edition of her popular book, An Emotionally Focused Workbook for Couples: The Two of Us. The first edition was translated into eight languages: Dutch, German, Polish, Russian, Korean, Japanese, with Hungarian and Ukrainian translations in process. As a presenter, Veronica is known for her warm, engaging style, and ability to bring clarity and heart to her teaching. Most of all, she is passionate about working with clinicians to deepen their therapeutic work and strengthen their confidence.