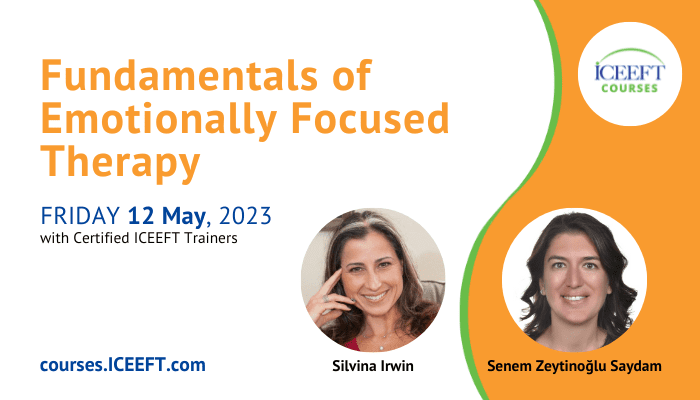 Fundamentals of Emotionally Focused Therapy – May, 2023
This event was previously "Attachment Theory in Practice"
Looking to elevate your skills and take your practice to the next level?
In just one day, Fundamentals of EFT will demonstrate how Emotionally Focused Therapy provides a map to lasting healing for individuals, couples, and families. Grounded in attachment science, this workshop will provide you with practical tools to guide your understanding and take your first step into the transformational world of EFT.
What is EFT? Learn the fundamentals in this one-day course.
1 Day
Event
Day 1:
Friday
May 12
2023
Event Time
by Time Zone
Pacific: 8:00am – 3:00pm
Mountain: 9:00am – 4:00pm
Central: 10:00am – 5:00pm
Eastern: 11:00am – 6:00pm
Become the therapist you want to be! Register today.
Scholarships are available for those in need.
Trainers
Senem Zeytinoğlu Saydam

ICEEFT Certified Trainer

Dr. Senem Zeytinoğlu Saydam worked as an assistant professor at Ozyeğin University's Department of Psychology and the program director of the its couple and family therapy masters program in İstanbul, Turkey until recently. Currently living in Toronto, Senem is a licensed marriage and family therapist, an AAMFT and CAMFT clinical fellow and AAMFT and CAMFT approved supervisor. She is a certified EFT therapist, supervisor and trainer. She holds a private practice where she sees individuals, couples and families and provides supervision to clinicians.

Senem received her Masters' degree from Columbia University Teachers College in counseling psychology and her doctoral degree from Drexel University in couple and family therapy. Her dissertation was on experiences of parents raising a child with cleft lip and/or palate. She is the recipient of Ivan Boszormenyi-Nagy Social Justice Award from Drexel University. Her research and clinical interests include person of the therapist, couples issues, medical family therapy and coping with illness and trauma.

She is the co-founder and the president of Turkish Emotionally Focused Individual, Couple and Family Therapies Association. She is currently serving on the boards of Turkish Couple and Family Therapy Association and International Family Therapy Association.

Silvina Irwin

ICEEFT Certified Trainer

Silvina Irwin, Ph.D. (PSY#19710) is a licensed clinical psychologist in Los Angeles, CA. She is the co-founder of the EFT Resource Center and the EFT Center of Los Angeles. Trained by Dr. Sue Johnson, she is an ICEEFT Certified Trainer, Supervisor and Therapist in Emotionally Focused Therapy. Dr. Irwin specializes in addressing a couples sexual relationship, as well as working with survivors of childhood and adult trauma in both individual and couple modalities. In addition to providing clinical services, Dr. Irwin conducts trainings internationally for therapists in Emotionally Focused Therapy and offers advanced courses in Sex and Couples therapy and Trauma and Couples Therapy. Workshops are also offered to professionals in the community, including the Police and Sheriff's Department, Office of the District Attorney, and medical staff at local hospitals to name a few. As a native Spanish speaker, all services are offered in Spanish and English. To learn more about Silvina, please visit www.drsilvinairwin.com