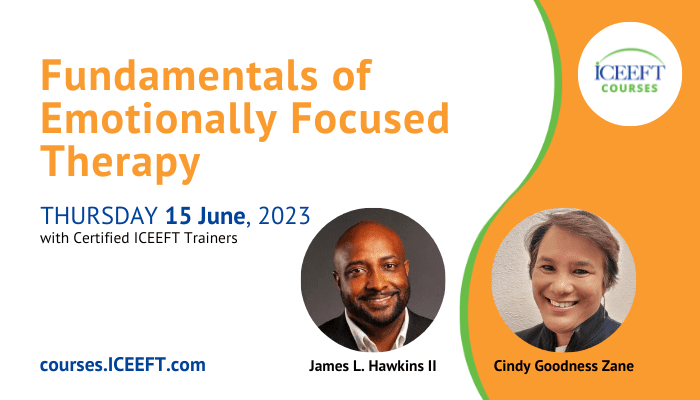 Fundamentals of Emotionally Focused Therapy – June, 2023
This event was previously "Attachment Theory in Practice"
Looking to elevate your skills and take your practice to the next level?
In just one day, Fundamentals of EFT will demonstrate how Emotionally Focused Therapy provides a map to lasting healing for individuals, couples, and families. Grounded in attachment science, this workshop will provide you with practical tools to guide your understanding and take your first step into the transformational world of EFT.
What is EFT? Learn the fundamentals in this one-day course.
1 Day
Event
Day 1:
Thursday
June 15
2023
Event Time
by Time Zone
Pacific: 8:00am – 3:00pm
Mountain: 9:00am – 4:00pm
Central: 10:00am – 5:00pm
Eastern: 11:00am – 6:00pm
Become the therapist you want to be! Register today.
Scholarships are available for those in need.
Trainers
Cindy Goodness Zane

ICEEFT Certified Trainer

Born and raised in Pearl City, Hawaiʻi, Dr. Cindy Aiko Leimomi Goodness Zane is a local girl at heart, of multiethnic backgrounds and strongly identifies with her Hawaiian and Japanese ancestries. She started her professional life as a trial attorney and discovered along the way that she was drawn to peoples' stories, joys, challenges and relationships. As a licensed Clinical Psychologist in private practice, Dr. Zane enjoys working with couples, families and individuals of diverse backgrounds, identities and varied life experiences. She utilizes Emotionally Focused Therapy (EFT) to help clients to navigate through life's challenges by strengthening their relationships. After all, life is less scary and most meaningful when we have close others to share it with.

Now Certified by the International Centre for Excellence in Emotionally Focused Therapy (ICEEFT) as an EFT Trainer, Supervisor and Therapist, Dr. Zane is passionate about training more EFT clinicians throughout Hawaiʻi and around the world. She finds especially meaningful the support and the development of local EFT clinicians, those of diverse backgrounds and identities, as well as those who work with diverse and/or marginalized populations.

James L. Hawkins II

ICEEFT Certified Trainer

Dr. James Hawkins, 'Doc Hawk', is a Licensed Counsellor with 11 years of experience and an ICEEFT certified trainer, supervisor, and therapist. He obtained a Master's in Marriage and Family Counselling and a Ph.D. in Psychology and Counseling. He currently serves as a Clinical Coordinator at a non-profit counselling practice in Northwest Arkansas. James is the founder of Healing Conversations, a training program developed to equip organizations and communities to have productive conversations about race. He is the co-host of two podcasts, The Leading Edge in Emotionally Focused Therapy, and The Leading Edge: Transforming Leadership Through Attachment Science. James is a part of the online training program, successinvulnerability.com, developed to help EFT therapists and supervisors gain more focus in their clinical work. Doc Hawk brings a passion for helping individuals, couples, families, and communities in relational distress. James is married to his wife, Nicola and together they have five daughters.