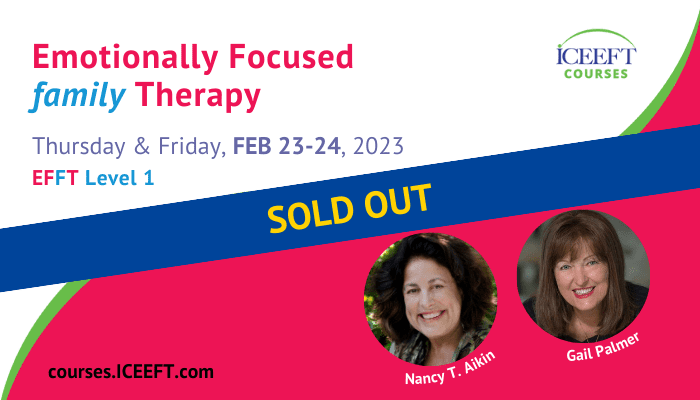 Emotionally Focused family Therapy (Level 1) – Feb, 2023
Over two-days, you'll learn EFT's transformative approach to restore connection and strengthen resilience in families. Help clients to grow, deepen bonds, and improve relationships across generations with EFFT.
2 Day
Event Schedule
Day 1:
Thursday Feb 23, 2023
Day 2:
Friday Feb 24, 2023
Event Time
by Time Zone
Pacific: 7:00am – 2:00pm
Mountain: 8:00am – 3:00pm
Central: 9:00am – 4:00pm
Eastern: 10:00am – 5:00pm
Become the therapist you want to be! Register today.
Scholarships are available for those in need.
The Full Price ticket sales has ended!
The Student ticket sales has ended!
Trainers
Gail Palmer

ICEEFT Certified Trainer

Gail Palmer, RMFT, MSW is one of the founding members of the Ottawa Couple and Family Institute and Vice President of the International Centre of Excellence in Emotionally Focused Therapy. She holds a Masters degree in Social Work and is a Registered Marriage and Family Therapist in Canada. For over 30 years, Gail has worked closely with Dr. Sue Johnson, creator of Emotionally Focused Therapy, and is an experienced trainer and supervisor in EFT. She currently offers workshops, externships and core skills trainings to mental health professionals in a variety of different settings across the world.

Gail has a particular interest in applying the model with work with families. She has co-authored the seminal EFFT text Emotionally Focused Therapy, Restoring Connection and Promoting Resilience, 2019. Her work has included EFFT trainings across North America, Europe and Australia/New Zealand, presentations at EFT summits, international conferences, publications in the EFFT workbook and casebook, articles in professional journals and the ICEEFT newsletter. Professionally, Gail's primary passion is to help therapists who are both new to EFT and trained in EFT, to bring the powerful interventions and skills of this model to the family therapy room.

Nancy T. Aikin

ICEEFT Certified Trainer

Nancy Tischler Aikin, PhD is a co-founder of Aikin Associates Seminars, and as such, has been a trainer/practitioner for the last 4 decades. Being an educator, as well as a clinician has been her focus throughout her career. She is in private practice seeing families, couples and individuals as well as working as an educator locally, nationally and internationally. Nancy, as a certified EFT Trainer, also provides supervision teaching EFT, Dr. Aikin earned her PhD in clinical psychology from the University of California, Davis in 1980 with a specialty in child treatment and worked with adolescents for many years as the clinical director of the teen services for Planned Parenthood of Sacramento. She has achieved the designations of Certified EFT Trainer, Supervisor and Therapist and has worked most closely with EFT Trainers Rebecca Jorgensen, Alison Lee, Jim Furrow, and Gail Palmer. Along with her husband Paul, she is Co-Director of the Greater Sacramento-Davis Center for EFT. Her most recent project in collaboration with Sue Johnson, Gail Palmer, Jim Furrow and Paul Aikin is to expand the HMT program for couples to families with teens and families with adult children.