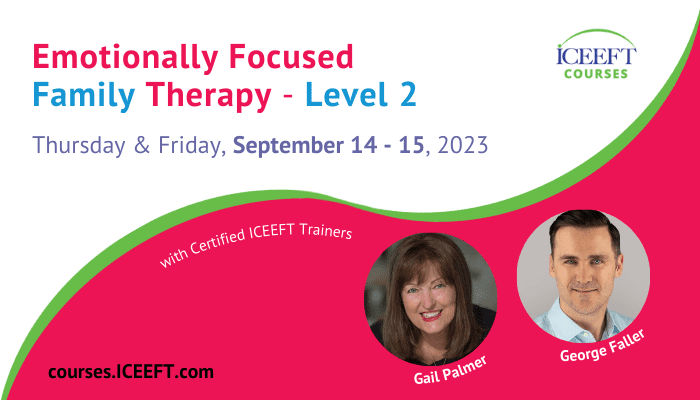 Emotionally Focused family Therapy (Level 2) – Sept, 2023
Pre-requisite: EFFT (Level 1)
Building on the foundations of EFFT Level 1, Level 2 focuses on increasing your competence in EFFT assessment and treatment practices that guide families through resolving relationship blocks and developing more secure familial bonds. Level 2 concentrates on specific practices for working through negative patterns, accessing and deepening emotional experience to promote corrective emotional experiences in family relationships. Video examples and practice exercises provide opportunities for you to observe EFFT in action and deepen your understanding and skill in this innovative approach to transforming family distress.
Completion of Level 2 is the final requirement for recognition of specialized training in EFFT.
2 Day
Event Schedule
Day 1:
Thursday Sept 14, 2023
Day 2:
Friday Sept 15, 2023
Event Time
by Time Zone
Pacific: 7:00am – 2:00pm
Mountain: 8:00am – 3:00pm
Central: 9:00am – 4:00pm
Eastern: 10:00am – 5:00pm
Become the therapist you want to be! Register today.
Scholarships are available for those in need.
Trainers
Gail Palmer

ICEEFT Certified Trainer

Gail Palmer, RMFT, MSW is one of the founding members of the Ottawa Couple and Family Institute and Vice President of the International Centre of Excellence in Emotionally Focused Therapy. She holds a Masters degree in Social Work and is a Registered Marriage and Family Therapist in Canada. For over 30 years, Gail has worked closely with Dr. Sue Johnson, creator of Emotionally Focused Therapy, and is an experienced trainer and supervisor in EFT. She currently offers workshops, externships and core skills trainings to mental health professionals in a variety of different settings across the world.

Gail has a particular interest in applying the model with work with families. She has co-authored the seminal EFFT text Emotionally Focused Therapy, Restoring Connection and Promoting Resilience, 2019. Her work has included EFFT trainings across North America, Europe and Australia/New Zealand, presentations at EFT summits, international conferences, publications in the EFFT workbook and casebook, articles in professional journals and the ICEEFT newsletter. Professionally, Gail's primary passion is to help therapists who are both new to EFT and trained in EFT, to bring the powerful interventions and skills of this model to the family therapy room.

George Faller

ICEEFT Certified Trainer

George Faller is a retired Lieutenant of the NYC Fire Department, a Licensed Marriage and Family Therapist in NY and Connecticut and the founder and President of the New York Center for Emotionally Focused Therapy (EFT). As an EFT Trainer, George teaches several classes at the Ackerman Institute for the Family and is the director of training at the Center for Hope and Renewal in Greenwich, Ct. Specializing on in-session micro moves, trauma, Family EFT, and self-of-the-therapist issues, George is committed to bringing EFT to underprivileged populations and pushing the leading edge of effective therapy. George hopes his books True Connection, Sacred Stress, Emotionally Focused Family Therapy, his hit podcast Foreplay Radio and his therapist training website www.SuccessInVulnerability.com contributes to the mission of making our world a more emotionally secure place.