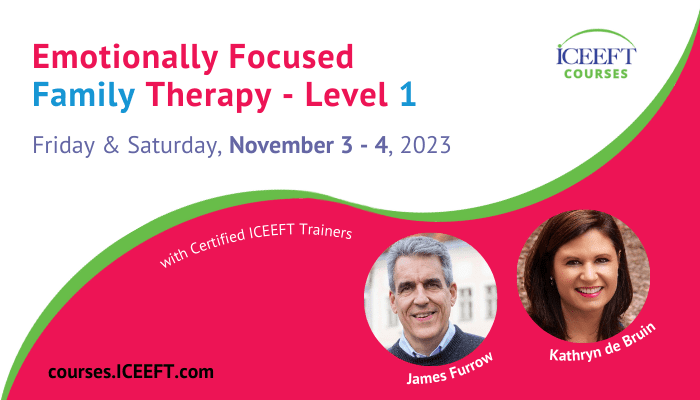 Emotionally Focused Family Therapy (Level 1) – Nov, 2023
Over two-days, you'll learn EFT's transformative approach to restore connection and strengthen resilience in families. Help clients to grow, deepen bonds, and improve relationships across generations with EFFT.
2 Day
Event Schedule
Day 1:
Friday Nov 3, 2023
Day 2:
Saturday Nov 4, 2023
Event Time
by Time Zone
Pacific: 9:00am – 4:00pm
Mountain: 10:00am – 5:00pm
Central: 11:00am – 6:00pm
Eastern: noon – 7:00pm
Become the therapist you want to be! Register today.
Scholarships are available for those in need.
Trainers
James Furrow

ICEEFT Certified Trainer

James L Furrow, Ph.D., is a recognized leader and contributor to the practice of Emotionally Focused Therapy (EFT) with couples and families. He is contributing author and editor to five EFT texts including Emotionally Focus Family Therapy: Restoring Connection and Promoting Resilience and Becoming an Emotionally Focused Therapist: The Workbook. His research on couple therapy, positive youth development and spirituality are featured in leading professional journals. He is a clinical fellow and an approved supervisor with the American Association for Marriage and Family Therapy and a Certified Family Life Educator. Jim is an ICEEFT certified EFT therapist, supervisor, and trainer. He resides in Seattle Washington.

Kathryn de Bruin

ICEEFT Certified Trainer

Kathryn de Bruin is a Marriage and Family Therapist, Certified EFT Trainer and Supervisor. She is the Director of Renova in San Diego which is a non-profit serving children and families. Kathryn teaches Play Therapy at the University of California, San Diego, in the Play Therapy Program. She started EFT South Africa, she supports various EFT communities and is a Director for the San Diego Center for EFT. As an AAMFT supervisor, Kathryn enjoys providing supervision in person and online. Supervisees have described her as warm, perceptive and skilled. With her strong work ethic, it is important to Kathryn to be accessible and responsive to those who work with her. For more information on Kathryn, visit her online at www.kathryndebruin.com