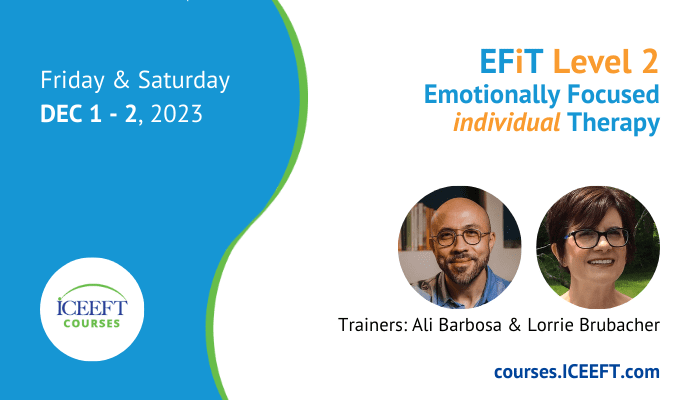 Emotionally Focused individual Therapy (Level 2) – Dec, 2023
Pre-requisite: EFiT (Level 1).
Transform your practice – and your clients – with EFIT!

Deepen your understanding of EFiT while discovering effective ways to overcome barriers and obstacles to change. EFiT Level 2 expands on Level 1, delving deeper into objectives and providing more extensive discussion and practice. Level 2 also offers support for challenging clients and situations.

Participants are encouraged to prepare for this live-online course by identifying specific examples where you have encountered confusion or difficulty in implementing EFIT and/or the Tango.
An EFiT Level 2 Certificate is available upon completion of this course.
2 Day
Event Schedule
Day 1:
Friday Dec 1, 2023
Day 2:
Saturday Dec 2, 2023
Event Time
by Time Zone
Pacific: 7:00am – 2:00pm
Mountain: 8:00am – 3:00pm
Central: 9:00am – 4:00pm
Eastern: 10:00am – 5:00pm
Become the therapist you want to be! Register today.
Scholarships are available for those in need.
Trainers
Ali Barbosa

ICEEFT Certified Trainer

Ali Barbosa is a licensed Marriage and Family Therapist and a Certified EFT Therapist, Supervisor and Trainer. He is the founder and director of EFT México, the first ICEEFT affiliated Center in Latin America. Ali has a full-time private practice in Mérida, México, and works with adult individuals and couples, sometimes in a bilingual setting. Additionally, Ali has been certified in CBT and Ericksonian psychotherapy. He has worked and trained with many different EFT trainers and appreciates the richness and integration that derives from collaboration. Ali is very passionate about training and has helped translate and bring the EFT model to Hispanic therapists all over Latin America and Spain.

Lorrie L. Brubacher

ICEEFT Certified Trainer

Lorrie L. Brubacher is the Founding Director of the Carolina Center for EFT (Emotionally Focused Therapy). A certified trainer with the International Centre for Excellence in EFT (ICEEFT), since 2009, she trains internationally and publishes on the topic of EFT and EFIT and EFT's AIRM specifically. Her book Stepping into Emotionally Focused Couple Therapy: Key Ingredients of Change (Routledge, 2018) is currently in 7 languages, with several more translations in process. She is currently on contract with Routledge to write an accompanying exercise book Workouts in EFT featuring EFT workouts in both couple and individual therapy. She co-developed EFT's first interactive video training program on the EFT Attachment Injury Resolution Model (www.attachmentinjuryrepair.com) and has produced many EFT couple and individual training videos (https://steppingintoeft.com/). She is a contributing author of Becoming an emotionally focused therapist: The Workbook (2022).