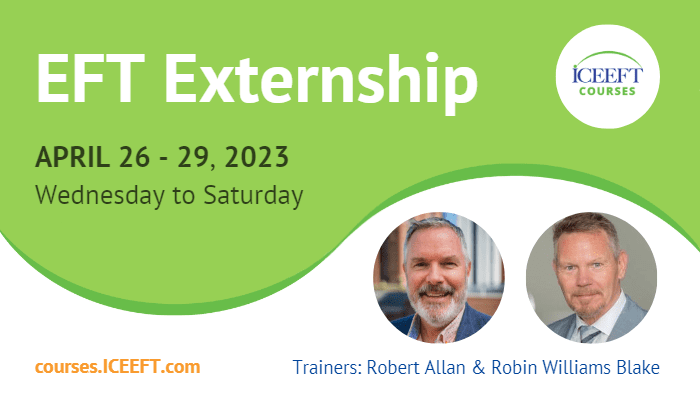 Externship – Apr, 2023
Immerse yourself in Emotionally Focused Therapy — a model backed by 30 years of empirical research — through our four-day "EFT Externship". Observe real couples undergoing therapy (live or recorded), practice your EFT skills with experiential exercises, discover which patterns keep clients stuck in distress, and learn how principles of attachment science translate into on-target interventions for individuals, couples and families. Emerge empowered and ready for your clients to grow in every session.
4 Day
Event Schedule
Day 1: Wednesday Apr 26, 2023
Day 2: Thursday Apr 27, 2023
Day 3: Friday Apr 28, 2023
Day 4: Saturday Apr 29, 2023
Event Time
by Time Zone
Pacific: 7:00am – 3:00pm
Mountain: 8:00am – 4:00pm
Central: 9:00am – 5:00pm
Eastern: 10:00am – 6:00pm
An Externship is made up of:
EFT for Couples: 70-80%
EFT for Individuals: 15-25%
EFT for Families: 1-10%
Become the therapist you want to be! Register today.
Scholarships are available for those in need.
Trainers
Robert Allan

ICEEFT Certified Trainer

Dr. Robert Allan (he/him/his)
Robert is an Associate Professor in the couple and family program at the University of Colorado Denver. He maintains an active practice in Denver and is the Director of the Colorado Center for EFT. Robert has helped train and supervise therapists and students in Emotionally Focused Therapy across Canada, the US, and U.K. Robert's interest in EFT extends to his research work where he has explored cultural adaptations of EFT. He is currently the co-Principal Investigator and supervising the Denver site for the first clinical trial of Emotionally Focused Individual Therapy (EFIT). Robert completed his PhD at Dalhousie University, he is a Licensed Marriage and Family Therapist in Colorado, and an Approved Supervisor with the American Association of Marriage and Family Therapy. Robert is a warm, knowledgeable, and engaged trainer with a passion for helping people learn EFT. Robert is the Co-editor and contributor of Creating Cultural Safety in Couple and Family Therapy: Supervision and Training.

Robin Williams Blake

ICEEFT Certified Trainer

Robin is a certified Emotionally Focused Therapy (EFT) trainer, supervisor and therapist. Presently, Robin is a faculty member in the graduate program for Sir Wilfrid Laurier University (Waterloo, Ont.), as well as a guest speaker in their continued education program. This past January he designed and taught the first EFT Core Skills equivalency course to be offered at a Canadian University with his colleague, ICEEFT supervisor Debbie Wang at WLU. In the last few years, Robin has taught EFT at York University in their social work program and was invited by Mount Sinai Hospital to speak at their level two trauma clinic. He is a former adjunct faculty member at the Living Institute of Existential-Integrative Psychotherapy, where he taught EFT for 5 years. Robin trains EFT for local centres and communities in Fredericton, Cambridge, Toronto, York Region and Edmonton and he co-trained at the Toronto Externship with Sue Johnson in October 2020-2021. For the past 3 years, he has been a regular consultant for Hold Me Tight retreats organized by Toronto Beyond the Blue, a not-for-profit organization providing therapeutic services for the Toronto police force and their families. Robin is a co-founder of the Toronto Centre for Emotionally Focused Therapy and has been a director for the Centre since 2005. He recently joined ICEEFT's certification team and enjoys helping in the EFT certification process. Robin is a registered psychotherapist and has been in private practice in Toronto for 20 years where he sees individuals, couples and families and provides supervision for therapists working towards certification in EFT.