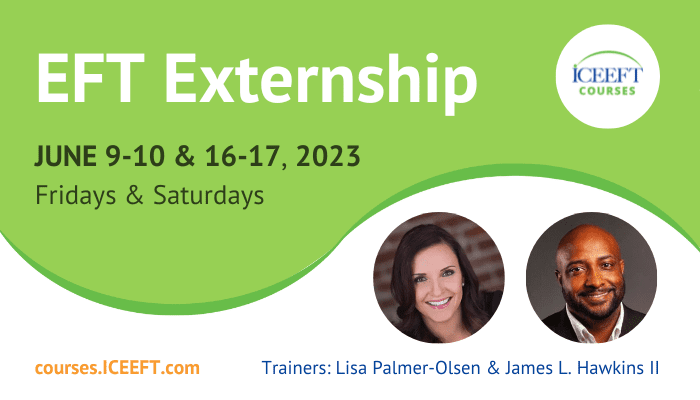 Externship – June, 2023
This four-day Externship provides an overview of the entire EFT model, including stages of treatment and the moves of the EFT Tango. Gain the tools to see which patterns keep clients stuck in distress, and learn how principles of attachment theory translate to organic, on-target interventions. Backed by 30 years of empirical research, guide your individual, couple, and family clients to see change in every session.
4 Day
Event Schedule
Day 1: Friday June 9, 2023
Day 2: Saturday June 10, 2023
Day 3: Friday June 16, 2023
Day 4: Saturday June 17, 2023
Event Time
by Time Zone
Pacific: 7:00am – 3:00pm
Mountain: 8:00am – 4:00pm
Central: 9:00am – 5:00pm
Eastern: 10:00am – 6:00pm
Become the therapist you want to be! Register today.
Scholarships are available for those in need.
Trainers
James L. Hawkins II

ICEEFT Certified Trainer

Dr. James Hawkins, 'Doc Hawk', is a Licensed Counsellor with 11 years of experience and an ICEEFT certified trainer, supervisor, and therapist. He obtained a Master's in Marriage and Family Counselling and a Ph.D. in Psychology and Counseling. He currently serves as a Clinical Coordinator at a non-profit counselling practice in Northwest Arkansas. James is the founder of Healing Conversations, a training program developed to equip organizations and communities to have productive conversations about race. He is the co-host of two podcasts, The Leading Edge in Emotionally Focused Therapy, and The Leading Edge: Transforming Leadership Through Attachment Science. James is a part of the online training program, successinvulnerability.com, developed to help EFT therapists and supervisors gain more focus in their clinical work. Doc Hawk brings a passion for helping individuals, couples, families, and communities in relational distress. James is married to his wife, Nicola and together they have five daughters.

Lisa Palmer-Olsen

ICEEFT Certified Trainer

Lisa is a Marriage and Family Therapist, Certified EFT Trainer and Supervisor and AAMFT Supervisor. She has a full time private practice in San Diego, CA where she works with couples and families specializing in trauma and relationship betrayals. Lisa is the co-founder and Director of Renova San Diego a non profit organization supporting training and direct clinical service in the SD Community using the Emotionally Focused Therapy Model.

Lisa is also heavily invested and active in the world of EFT training and supervision She runs the Supervisor's Collaborative and completed her dissertation with Dr. Sue Johnson and Dr. Scott Woolley about the EFT Supervision Model. For more information please go to DrLisaPalmerOlsen.Com or RenovaSanDiego.org.