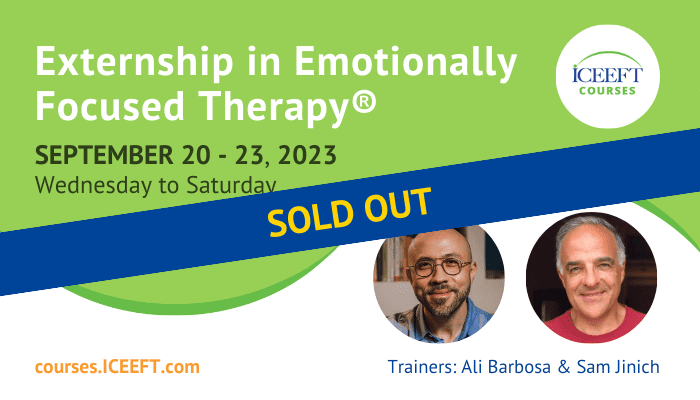 Externship – Sept. 2023
Immerse yourself in Emotionally Focused Therapy — a model backed by 30 years of empirical research — through our four-day "Externship in Emotionally Focused Therapy®".

Observe real couples undergoing therapy (live or recorded), practice your EFT skills with experiential exercises, discover which patterns keep clients stuck in distress, and learn how principles of attachment science translate into on-target interventions for individuals, couples and families.

Emerge empowered and ready for your clients to grow in every session.
4 Day
Event Schedule
Day 1: Wednesday Sept. 20, 2023
Day 2: Thursday Sept. 21, 2023
Day 3: Friday Sept. 22, 2023
Day 4: Saturday Sept. 23, 2023
Event Time
by Time Zone
Pacific: 7:00am – 3:00pm
Mountain: 8:00am – 4:00pm
Central: 9:00am – 5:00pm
Eastern: 10:00am – 6:00pm
An Externship is made up of:
EFT for Couples: 70-80%
EFT for Individuals: 15-25%
EFT for Families: 1-10%
Become the therapist you want to be! Register today.
Scholarships are available for those in need.
The Full Price ticket sales has ended!
The Student ticket sales has ended!
Trainers
Ali Barbosa

ICEEFT Certified Trainer

Ali Barbosa is a licensed Marriage and Family Therapist and a Certified EFT Therapist, Supervisor and Trainer. He is the founder and director of EFT México, the first ICEEFT affiliated Center in Latin America. Ali has a full-time private practice in Mérida, México, and works with adult individuals and couples, sometimes in a bilingual setting. Additionally, Ali has been certified in CBT and Ericksonian psychotherapy. He has worked and trained with many different EFT trainers and appreciates the richness and integration that derives from collaboration. Ali is very passionate about training and has helped translate and bring the EFT model to Hispanic therapists all over Latin America and Spain.

Sam Jinich

ICEEFT Certified Trainer

Dr. Sam Jinich, Ph.D.

Sam Jinich, Ph.D. is a Clinical Psychologist. He is the Director of the San Francisco Center for Emotionally Focused Therapy (SFCEFT). Sam is a Certified EFT Trainer, Supervisor and Therapist. He teaches EFT in San Francisco, CA and as a bilingual trainer, throughout Latin America and Spain. Sam was responsible for bringing EFT to Spanish Speaking countries. Sam is Co-Founder of the Northern California Community of Emotionally Focused Therapy (NCCEFT). Sam offers the full menu of EFT trainings in English at his San Francisco Center. He also teaches all EFT courses (Introduction, Externships and Core Skills) in Spanish in the USA, Latin America, Spain and online. In addition to his private practice, Sam enjoys teaching EFT, supervising, and helping those interested in becoming Certified EFT therapists and Supervisors. You can learn more about Sam and EFT Trainings in San Francisco at www.SFCEFT.com, and www.SamJinich.com or contact him directly at SFCEFT@gmail.com.