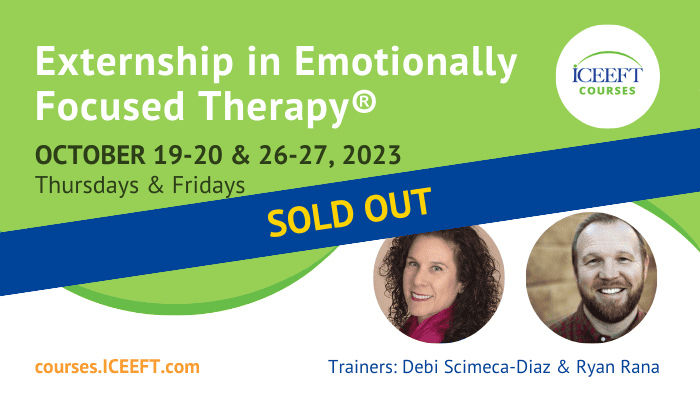 Externship – Oct. 2023
Immerse yourself in Emotionally Focused Therapy — a model backed by 30 years of empirical research — through our four-day "Externship in Emotionally Focused Therapy®".

Observe real couples undergoing therapy (live or recorded), practice your EFT skills with experiential exercises, discover which patterns keep clients stuck in distress, and learn how principles of attachment science translate into on-target interventions for individuals, couples and families.

Emerge empowered and ready for your clients to grow in every session.
4 Day
Event Schedule
Day 1: Thursday Oct. 19, 2023
Day 2: Friday Oct. 20, 2023
Day 3: Thursday Oct. 26, 2023
Day 4: Friday Oct. 27, 2023
Event Time
by Time Zone
Pacific: 6:00am – 2:00pm
Mountain: 7:00am – 3:00pm
Central: 8:00am – 4:00pm
Eastern: 9:00am – 5:00pm
An Externship is made up of:
EFT for Couples: 70-80%
EFT for Individuals: 15-25%
EFT for Families: 1-10%
Become the therapist you want to be! Register today.
Scholarships are available for those in need.
The Full Price ticket sales has ended!
The Student ticket sales has ended!
Trainers
Debi Scimeca-Diaz

ICEEFT Certified Trainer

Debi Scimeca-Diaz, Licensed Marriage and Family Therapist, is an ICEEFT-approved EFT Therapist, Supervisor, and Trainer, as well as Director of the EFT Center of New Jersey. Additionally, Debi is an AAMFT Approved Supervisor in the state of New Jersey with over 25 years of experience in the field, including over 15 years as a Licensed Clinical Alcohol and Drug Counselor. She runs a full-time private practice where she offers EFT couples therapy and Hold Me Tight workshops; individual and group supervision and consultation; and EFT trainings at both the Externship and Core Skills levels. Debi's mission is to leverage her skills as a clinician alongside her genuine compassion to foster healing through transformative emotional experiences for all her clients, creating sustainable and long-term connection in their relationships. Exposure to her work and her passion has inspired thousands of therapists in their paths toward training in Emotionally Focused Therapy. For more information, visit Debi's website at www.CouplesTherapyNJ.com.

Ryan Rana

ICEEFT Certified Trainer

Ryan Rana, PhD., LPC/LMFT
Ryan is the founding Director of the Arkansas Center for EFT and is a Certified EFT Supervisor and Trainer.  A former counseling/marriage and family therapy faculty member at 3 universities, he did his training in Emotionally Focused Therapy with Dr. Sue Johnson and George Faller. In 2012, Ryan founded the Arkansas EFT community (now Arkansas EFT Center). Additionally, Ryan is the CEO and cofounder of The Joshua Center in Arkansas, where he maintains a private practice. Ryan's clinical practices include: couples, sexuality, anxiety, depression, traumatic stress, high stress performance/recovery, team leadership dynamics and other similar areas. He provides EFT intensives with couples in Arkansas.  Ryan has a passion to advance EFT via education and trainings in several regions.  Before becoming a therapist, Ryan was an athlete and pitching coach at the collegiate level of baseball.  He also spends significant time studying military training processes and practices as well as dynamics of performance and sustainability in military and law enforcement – as well as how it relates to the process of strategies of change and healing in psychotherapy. Ryan is a civilian contractor with the US Army, US Marine Corps, and US Air Force. Additionally, Ryan is professional threat management consultant with Safehaven Security group. Ryan also has a social media presence as cofounder of The Leading Edge in Emotionally Focused Therapy podcast and www.successinvulnerability.com