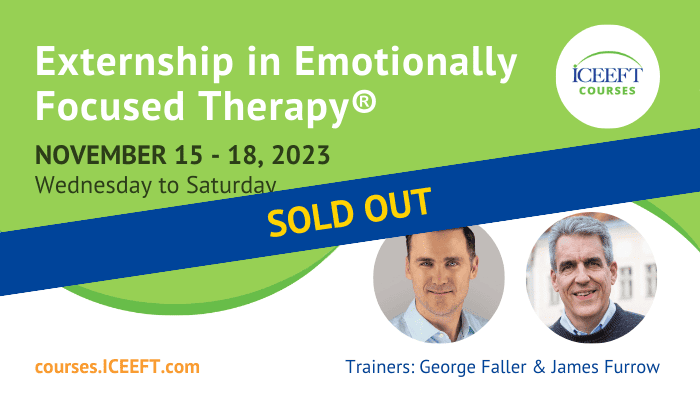 Externship – Nov. 2023
Immerse yourself in Emotionally Focused Therapy — a model backed by 30 years of empirical research — through our four-day "Externship in Emotionally Focused Therapy®".

Observe real couples undergoing therapy (live or recorded), practice your EFT skills with experiential exercises, discover which patterns keep clients stuck in distress, and learn how principles of attachment science translate into on-target interventions for individuals, couples and families.

Emerge empowered and ready for your clients to grow in every session.
4 Day
Event Schedule
Day 1: Wednesday Nov. 15, 2023
Day 2: Thursday Nov. 16, 2023
Day 3: Friday Nov. 17, 2023
Day 4: Saturday Nov. 18, 2023
Event Time
by Time Zone
Pacific: 8:00am – 4:00pm
Mountain: 9:00am – 5:00pm
Central: 10:00am – 6:00pm
Eastern: 11:00am – 7:00pm
An Externship is made up of:
EFT for Couples: 70-80%
EFT for Individuals: 15-25%
EFT for Families: 1-10%
Become the therapist you want to be! Register today.
Scholarships are available for those in need.
Sold out!
Trainers
George Faller

ICEEFT Certified Trainer

George Faller is a retired Lieutenant of the NYC Fire Department, a Licensed Marriage and Family Therapist in NY and Connecticut and the founder and President of the New York Center for Emotionally Focused Therapy (EFT). As an EFT Trainer, George teaches several classes at the Ackerman Institute for the Family and is the director of training at the Center for Hope and Renewal in Greenwich, Ct. Specializing on in-session micro moves, trauma, Family EFT, and self-of-the-therapist issues, George is committed to bringing EFT to underprivileged populations and pushing the leading edge of effective therapy. George hopes his books True Connection, Sacred Stress, Emotionally Focused Family Therapy, his hit podcast Foreplay Radio and his therapist training website www.SuccessInVulnerability.com contributes to the mission of making our world a more emotionally secure place.

James Furrow

ICEEFT Certified Trainer

James L Furrow, Ph.D., is a recognized leader and contributor to the practice of Emotionally Focused Therapy (EFT) with couples and families. He is contributing author and editor to five EFT texts including Emotionally Focus Family Therapy: Restoring Connection and Promoting Resilience and Becoming an Emotionally Focused Therapist: The Workbook. His research on couple therapy, positive youth development and spirituality are featured in leading professional journals. He is a clinical fellow and an approved supervisor with the American Association for Marriage and Family Therapy and a Certified Family Life Educator. Jim is an ICEEFT certified EFT therapist, supervisor, and trainer. He resides in Seattle Washington.