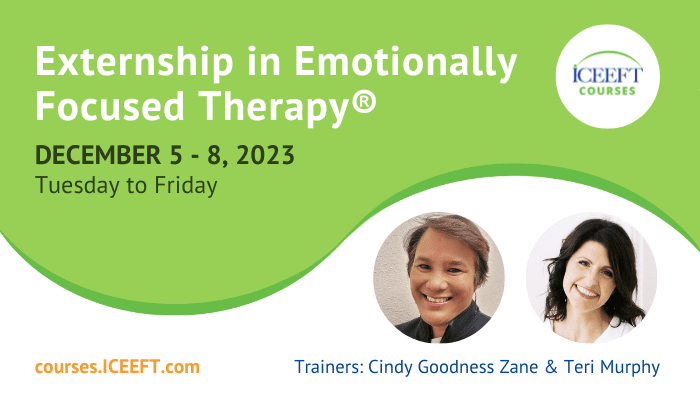 Externship – Dec. 2023
Immerse yourself in Emotionally Focused Therapy — a model backed by 30 years of empirical research — through our four-day "Externship in Emotionally Focused Therapy®".

Observe real couples undergoing therapy (live or recorded), practice your EFT skills with experiential exercises, discover which patterns keep clients stuck in distress, and learn how principles of attachment science translate into on-target interventions for individuals, couples and families.

Emerge empowered and ready for your clients to grow in every session.
4 Day
Event Schedule
Day 1: Tuesday Dec. 5, 2023
Day 2: Wednesday Dec. 6, 2023
Day 3: Thursday Dec. 7, 2023
Day 4: Friday Dec. 8, 2023
Event Time
by Time Zone
Pacific: 9:00am -5:00pm
Mountain: 10:00am – 6:00pm
Central: 11:00am – 7:00pm
Eastern: noon – 8:00pm
An Externship is made up of:
EFT for Couples: 70-80%
EFT for Individuals: 15-25%
EFT for Families: 1-10%
Become the therapist you want to be! Register today.
Scholarships are available for those in need.
Trainers
Cindy Goodness Zane

ICEEFT Certified Trainer

Born and raised in Pearl City, Hawaiʻi, Dr. Cindy Aiko Leimomi Goodness Zane is a local girl at heart, of multiethnic backgrounds and strongly identifies with her Hawaiian and Japanese ancestries. She started her professional life as a trial attorney and discovered along the way that she was drawn to peoples' stories, joys, challenges and relationships. As a licensed Clinical Psychologist in private practice, Dr. Zane enjoys working with couples, families and individuals of diverse backgrounds, identities and varied life experiences. She utilizes Emotionally Focused Therapy (EFT) to help clients to navigate through life's challenges by strengthening their relationships. After all, life is less scary and most meaningful when we have close others to share it with.

Now Certified by the International Centre for Excellence in Emotionally Focused Therapy (ICEEFT) as an EFT Trainer, Supervisor and Therapist, Dr. Zane is passionate about training more EFT clinicians throughout Hawaiʻi and around the world. She finds especially meaningful the support and the development of local EFT clinicians, those of diverse backgrounds and identities, as well as those who work with diverse and/or marginalized populations.

Teri Murphy

ICEEFT Certified Trainer

Teri Murphy, PhD is a licensed marriage and family therapist and an ICEEFT Certified Trainer, Supervisor, and Therapist in Emotionally Focused Therapy. A former bona fide rocket scientist, Teri transferred her systems engineering skills and strong scientific foundation to therapy, and has owned a private practice in Franklin TN since 2012. Building on her previous career experience as well as her time as a graduate level counseling professor, Teri has curated a fresh, systemic perspective on creating connection, deep healing, and smoothly functioning relationships.

In addition to her clinical work, Teri is a sought-after speaker and loves sharing her knowledge on attachment, compassion, self-of-the-therapist, and relationships. Teri has written articles on love, self, relationships, and the science of connection for multiple national and local publications [Simple Practice, the Tennessean, Bedlam Magazine, and Venn Magazine], and enjoys facilitating workshops on relationships, authenticity, and personal development.

Above all else, Teri is a spitfire academic who believes in developing compassion for human beings through therapy, continuous self-assessment, listening to and learning from leaders in multiple disciplines across fields of work, and challenging herself constantly to be radically honest, question everything, and ultimately, when in doubt, to follow where love leads. She loves spending time with her husband and two teenage children, and has a special love for coffee. Lots of coffee.