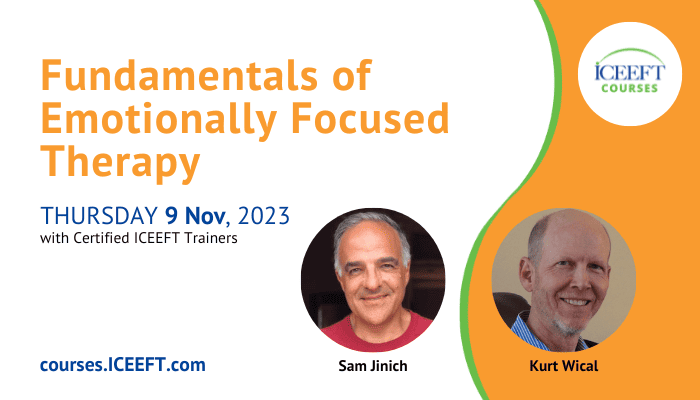 Fundamentals of Emotionally Focused Therapy – Nov, 2023
6.25hr training + 40min lunch + two 10min breaks
Event Time by North American Time Zone
Pacific: 6:00am – 1:15pm
Mountain: 7:00am – 2:15pm
Central: 8:00am – 3:15pm
Eastern: 9:00am – 4:15pm
Need more information?
Become the therapist you want to be! Register today.
Trainers
Kurt Wical

ICEEFT Certified Trainer

Kurt Wical, MA, Ph.D., LMFT began general practice in 1991 after receiving a MA in Counseling from the University of New Mexico. Wanting to learn more about working with couples and families he completed a PhD at the University of Minnesota in 2004. After completing an externship in Emotionally Focused Therapy (EFT) in 2007 he began to specialize in couple therapy. He is certified by the International Centre for Excellence in Emotionally Focused Therapy (ICEEFT) as an EFT therapist, EFT Supervisor, and EFT Trainer. Kurt has been providing workshops on EFT and training therapists in couple therapy for the last 12 years. Kurt is also the founder and director of the MN Couple Therapy Center and is the president of the Minnesota Center for EFT. To learn more about EFT courses in Minnesota go to www.mnceft.org or you can reach him directly at kwical@mncoupletherapycenter.com

Sam Jinich

ICEEFT Certified Trainer

Dr. Sam Jinich, Ph.D.

Sam Jinich, Ph.D. is a Clinical Psychologist. He is the Director of the San Francisco Center for Emotionally Focused Therapy (SFCEFT). Sam is a Certified EFT Trainer, Supervisor and Therapist. He teaches EFT in San Francisco, CA and as a bilingual trainer, throughout Latin America and Spain. Sam was responsible for bringing EFT to Spanish Speaking countries. Sam is Co-Founder of the Northern California Community of Emotionally Focused Therapy (NCCEFT). Sam offers the full menu of EFT trainings in English at his San Francisco Center. He also teaches all EFT courses (Introduction, Externships and Core Skills) in Spanish in the USA, Latin America, Spain and online. In addition to his private practice, Sam enjoys teaching EFT, supervising, and helping those interested in becoming Certified EFT therapists and Supervisors. You can learn more about Sam and EFT Trainings in San Francisco at www.SFCEFT.com, and www.SamJinich.com or contact him directly at SFCEFT@gmail.com.