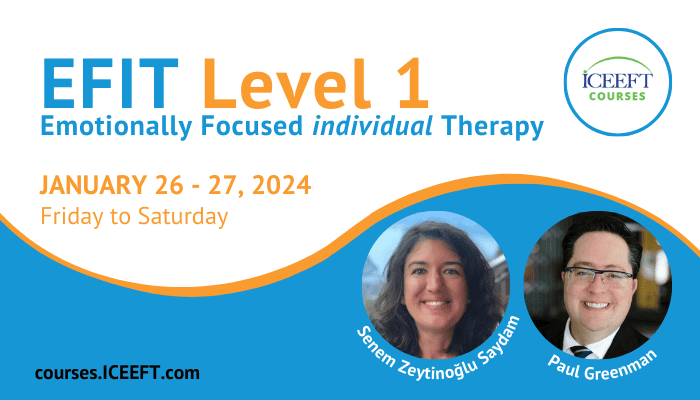 2024 Jan | EFIT (Level 1)
Register for "Emotionally Focused individual Therapy (Level 1)"
Friday, Jan. 26, 2024
Saturday, Jan. 27, 2024
6hr training + 40min lunch + two 10min breaks
Event Time by North American Time Zone
Pacific: 9:00am – 4:00pm
Mountain: 10:00am – 5:00pm
Central: 11:00am – 6:00pm
Eastern: noon – 7:00pm
Become the therapist you want to be! Register today.
Trainers
Paul Greenman

ICEEFT Certified Trainer

Paul is an EFT therapist, supervisor, and trainer. He is a full-time professor of clinical psychology and former chair of the Department of Psychoeducation and Psychology at the Université du Québec en Outaouais (UQO) in Gatineau, Québec, Canada. Paul provides services to clients at the Ottawa Couple and Family Institute (OCFI) and for 15 years was a clinical and research psychologist at the Montfort Hospital in Ottawa, Canada. Throughout his career, Paul has been heavily involved in the teaching and supervision of EFT at the Montfort, at the Psychological Services Clinic of the UQO, and at the OCFI. Paul has a strong interest in the application of psychological treatments to patients in medical settings; he has overseen and contributed to research projects on the impact of EFT on couples in which one partner suffers from cardiac disease, as well as its effects on the management of other illnesses, including diabetes and post-partum depression. Paul has collaborated most recently with Sue Johnson and colleagues at the University of Ottawa Heart Institute on the development of the "Healing Hearts Together" program for people with heart disease and their spouses. Healing Hearts Together is an adaptation of the "Hold Me Tight" relationship education program. Paul has published numerous peer-reviewed articles and book chapters. He also presents regularly at scientific conferences on the process and efficacy of EFT. Paul conducts therapy and trainings in French, German, Italian, and English.

Senem Zeytinoğlu Saydam

ICEEFT Certified Trainer

Dr. Senem Zeytinoğlu Saydam worked as an assistant professor at Ozyeğin University's Department of Psychology and the program director of the its couple and family therapy masters program in İstanbul, Turkey until recently. Currently living in Toronto, Senem is a licensed marriage and family therapist, an AAMFT and CAMFT clinical fellow and AAMFT and CAMFT approved supervisor. She is a certified EFT therapist, supervisor and trainer. She holds a private practice where she sees individuals, couples and families and provides supervision to clinicians.

Senem received her Masters' degree from Columbia University Teachers College in counseling psychology and her doctoral degree from Drexel University in couple and family therapy. Her dissertation was on experiences of parents raising a child with cleft lip and/or palate. She is the recipient of Ivan Boszormenyi-Nagy Social Justice Award from Drexel University. Her research and clinical interests include person of the therapist, couples issues, medical family therapy and coping with illness and trauma.

She is the co-founder and the president of Turkish Emotionally Focused Individual, Couple and Family Therapies Association. She is currently serving on the boards of Turkish Couple and Family Therapy Association and International Family Therapy Association.