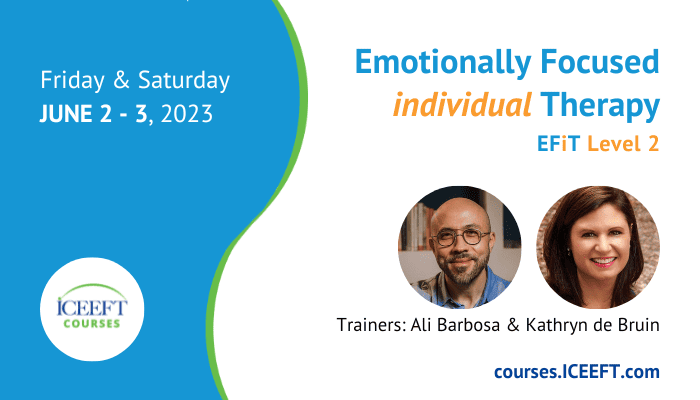 Emotionally Focused individual Therapy (Level 2) – June, 2023
Pre-requisite: EFiT (Level 1).
Transform your practice – and your clients – with EFIT!

Deepen your understanding of EFiT while discovering effective ways to overcome barriers and obstacles to change. EFiT Level 2 expands on Level 1, delving deeper into objectives and providing more extensive discussion and practice. Level 2 also offers support for challenging clients and situations.

Participants are encouraged to prepare for this live-online course by identifying specific examples where you have encountered confusion or difficulty in implementing EFIT and/or the Tango.
An EFiT Level 2 Certificate is available upon completion of this course.
2 Day
Event Schedule
Day 1:
Friday June 2, 2023
Day 2:
Saturday June 3, 2023
Event Time
by Time Zone
Pacific: 8:00am – 3:00pm
Mountain: 9:00am – 4:00pm
Central: 10:00am – 5:00pm
Eastern: 11:00am – 6:00pm
Become the therapist you want to be! Register today.
Scholarships are available for those in need.
You may also be interested in…
Live Q&A Only
Already completed this course and just want to tune in for the Live Q&A on Thursday Sept. 7, 2023? This is the one for you!
Pre-requisite: completion of EFIT Level II
Click for more information
Trainers
Ali Barbosa

ICEEFT Certified Trainer

Ali Barbosa is a licensed Marriage and Family Therapist and a Certified EFT Therapist, Supervisor and Trainer. He is the founder and director of EFT México, the first ICEEFT affiliated Center in Latin America. Ali has a full-time private practice in Mérida, México, and works with adult individuals and couples, sometimes in a bilingual setting. Additionally, Ali has been certified in CBT and Ericksonian psychotherapy. He has worked and trained with many different EFT trainers and appreciates the richness and integration that derives from collaboration. Ali is very passionate about training and has helped translate and bring the EFT model to Hispanic therapists all over Latin America and Spain.

Kathryn de Bruin

ICEEFT Certified Trainer

Kathryn de Bruin is a Marriage and Family Therapist, Certified EFT Trainer and Supervisor. She is the Director of Renova in San Diego which is a non-profit serving children and families. Kathryn teaches Play Therapy at the University of California, San Diego, in the Play Therapy Program. She started EFT South Africa, she supports various EFT communities and is a Director for the San Diego Center for EFT. As an AAMFT supervisor, Kathryn enjoys providing supervision in person and online. Supervisees have described her as warm, perceptive and skilled. With her strong work ethic, it is important to Kathryn to be accessible and responsive to those who work with her. For more information on Kathryn, visit her online at www.kathryndebruin.com