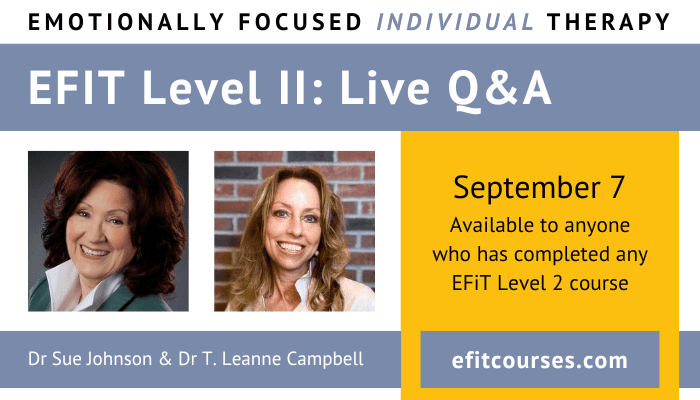 EFIT Level II: Live Q&A (only)
Pre-requisite: completion of EFiT (Level 2)
For anyone who has completed any EFiT Level 2 course, you are welcome to join Drs. Sue Johnson & Leanne Campbell for an EFiT Live Q&A on Thursday September 7, 2023.

Attendees are encouraged to bring specific examples where you have encountered confusion or difficulty in implementing EFiT and/or the Tango.

This is a very special opportunity to bring your questions to Drs. Sue & Leanne LIVE!
Event Time by Time Zone
Please note that end times are approximate.
North America
Hawaii: 7am – 9am
Pacific: 10am – noon
Mountain: 11am – 1pm
Central: noon – 2pm
Eastern: 1pm – 3pm
International (estimates)
Please do your own calculations based off 10am Vancouver, Canada (UTC-7)
Central Africa Time: 7pm – 9pm
Central European Daylight Time: 7pm – 9pm
Iran Time: 8:30pm-10:30pm
India Time: 10:30pm – 12:30am
Singapore Time: 1am – 3am (on Sept 8)
Korean Time: 2am – 4am (on Sept 8)
Australian Eastern Standard Time: 3am – 5am (on Sept 8)
New Zealand Standard Time: 5am – 7am (on Sept 8)
Ticket Details
Inclusions & Exclusions
Includes: access to the Live Q&A on Sept. 7
Excludes: the recording of the Live Q&A, the EFiT Level 2 course
CEs: 0 CEs are available for the Live Q&A
There is no completion certificate available for the Live Q&A
Special Event Policies
Please choose carefully as this a special event and has the following conditions in addition to our regular policies:
Special events welcome participants from around the world.
Note: If you have registered for The Full Package (Prerecorded EFIT Level II) this event is INCLUDED in your package.
Trainers
Sue Johnson

ICEEFT Certified Trainer and Founder

Dr. Sue Johnson is an author, clinical psychologist, researcher, professor, popular presenter and speaker and a leading innovator in the field of couple therapy and adult attachment. Sue is the primary developer of Emotionally Focused Couples and Family Therapy (EFT), which has demonstrated its effectiveness in over 30 years of peer-reviewed clinical research.

Sue Johnson is founding Director of the International Centre for Excellence in Emotionally Focused Therapy (ICEEFT) and Distinguished Research Professor at Alliant University in San Diego, California, as well as Professor Emeritus, Clinical Psychology, at the University of Ottawa, Canada.

Sue's newest book, Attachment Theory in Practice: EFT with Individuals, Couples and Families, shows the promise of attachment science in terms of making sense of and repairing our most precious relationships and thriving as strong resilient individuals. Attachment science offers us the most potent model for therapeutic change, especially when dealing with anxiety and depression, and that, of all models of intervention, EFT most closely captures the essence of the attachment perspective. It targets the defining feature of survival-oriented human connection, namely strong emotion, and systematically shapes core bonding interactions with others.

Sue trains counselors in EFT worldwide and consults to the 65 international institutes and affiliated centers who practice EFT.

T. Leanne Campbell

ICEEFT Certified Trainer

Dr. T. Leanne Campbell is co-director of the Vancouver Island Centre for EFT and Campbell & Fairweather Psychology Group and is an Honorary Research Associate of Vancouver Island University. Trained by Dr. Sue Johnson in the early 1990s, she has continued to work in the EFT model since that time, and has provided psychotherapy services to hundreds of individuals, couples and families over the past about three decades.

Known for her expertise in the area of trauma, Dr. Campbell has provided hundreds of psychological assessment reports for forensic/legal and personal injury matters being considered before various levels of Court. She also is regularly called upon to provide expert opinion surrounding Canadian Forces Base, Veterans Affairs Canada, Royal Canadian Mounted Police/RCMP (and other first responder) cases, as well as psychological evaluations for various insurance companies and bodies involved in adjudicating personal injury and other trauma-based claims.

In addition to maintaining an active and full-time private practice, with a primary focus in the areas of trauma, grief and loss, Dr. Campbell currently co-manages a two-site practice comprised of over twenty clinicians and is a site co-ordinator for an Emotionally Focused Individual Therapy (EFIT) outcome study.

An active ICEEFT Certified Trainer, Leanne has been providing trainings in EFT over the past many years and has similarly been involved in the development of various training materials including DVDs, on-line educational/training programs, books, workbooks and articles.