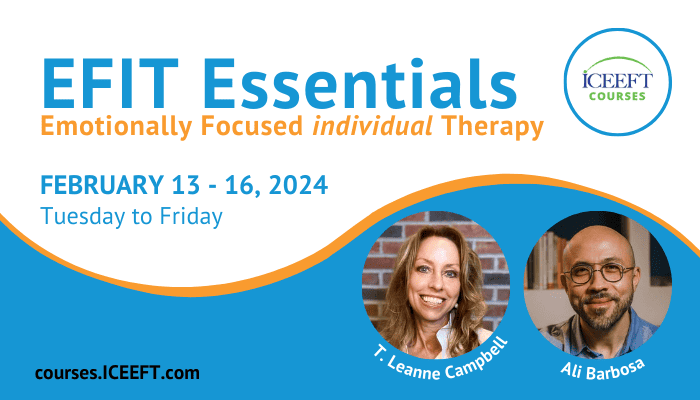 2024 Feb | EFIT Essentials
Register for "EFIT Essentials (Emotionally Focused Individual Therapy)"
Tuesday, Feb. 13, 2024
Wednesday, Feb. 14, 2024
Thursday, Feb. 15, 2024
Friday, Feb. 16, 2024
6hr training + 40min lunch + two 10min breaks
Event Time by North American Time Zone
Pacific: 6:00am – 1:00pm
Mountain: 7:00am – 2:00pm
Central: 8:00am – 3:00pm
Eastern: 9:00am – 4:00pm
Need more information?
Become the therapist you want to be! Register today.
Trainers
Ali Barbosa

ICEEFT Certified Trainer

Ali Barbosa is a licensed Marriage and Family Therapist and a Certified EFT Therapist, Supervisor and Trainer. He is the founder and director of EFT México, the first ICEEFT affiliated Center in Latin America. Ali has a full-time private practice in Mérida, México, and works with adult individuals and couples, sometimes in a bilingual setting. Additionally, Ali has been certified in CBT and Ericksonian psychotherapy. He has worked and trained with many different EFT trainers and appreciates the richness and integration that derives from collaboration. Ali is very passionate about training and has helped translate and bring the EFT model to Hispanic therapists all over Latin America and Spain.

T. Leanne Campbell

ICEEFT Certified Trainer

Dr. T. Leanne Campbell is co-director of the Vancouver Island Centre for EFT and Campbell & Fairweather Psychology Group and is an Honorary Research Associate of Vancouver Island University. Trained by Dr. Sue Johnson in the early 1990s, she has continued to work in the EFT model since that time, and has provided psychotherapy services to hundreds of individuals, couples and families over the past about three decades.

Known for her expertise in the area of trauma, Dr. Campbell has provided hundreds of psychological assessment reports for forensic/legal and personal injury matters being considered before various levels of Court. She also is regularly called upon to provide expert opinion surrounding Canadian Forces Base, Veterans Affairs Canada, Royal Canadian Mounted Police/RCMP (and other first responder) cases, as well as psychological evaluations for various insurance companies and bodies involved in adjudicating personal injury and other trauma-based claims.

In addition to maintaining an active and full-time private practice, with a primary focus in the areas of trauma, grief and loss, Dr. Campbell currently co-manages a two-site practice comprised of over twenty clinicians and is a site co-ordinator for an Emotionally Focused Individual Therapy (EFIT) outcome study.

An active ICEEFT Certified Trainer, Leanne has been providing trainings in EFT over the past many years and has similarly been involved in the development of various training materials including DVDs, on-line educational/training programs, books, workbooks and articles.